Since music plays a huge part in my life, I am always interested in seeing not just how cinema leverages it, but also how music can make use of cinema to offer new angles from which to approach it. I already wrote about music videos and film concerts, and yet Angel Olsen's Big Time poses a different problem: has music become cinema or is it something new altogether?
Accompanying a record with visuals is not a novelty, of course, nor is using music for a film which ends up highlighting the music itself (e.g., Prince's Purple Rain). However, Olsen places Big Time in a peculiar position. It's not a concert film, it's not a narration of the record's concept by means of images, and it's not even a re-telling of the album's songs via loosely connected music videos. She wanted something different for her sixth full-length work.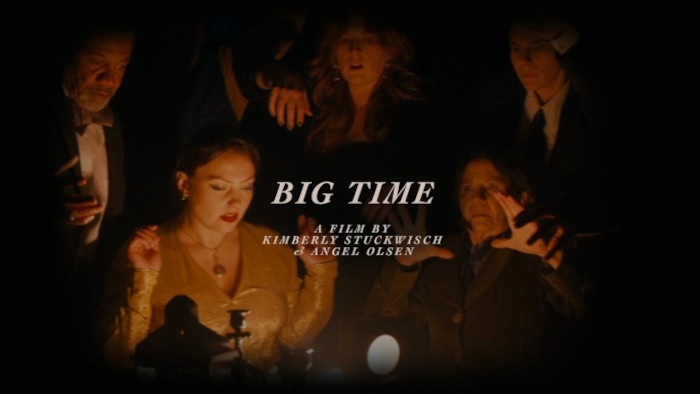 Big Time (Kimberly Stuckwisch and Angel Olsen, 2022)
To understand Big Time as a whole one must immerse themselves in Olsen's present history insofar as she is willing to disclose it to the public. Much has changed in her life since the 2019's marvel that is All Mirrors. A year later she shared the true origins of that album with the instrumentally more intimate Whole New Mess. Then, collected both records plus demos, remixes, and covers in Songs of the Lark and Other Far Memories, which is to say she wanted to be done once and for all with this troublesome time in her career. In the midst of the pandemic she streamed live concerts from her home among other places, crafted various mixes and covers, and found the time to work with Sharon Van Etten on Like I Used To1 before unveiling Big Time and embarking on The Wild Hearts Tour with Van Etten and Julien Baker.
This admirable relentlessness is, however, only half of the story. After the breakup that turned the self-imposed isolation to reconnect with herself into the proper space to conceive All Mirrors, life went on with new challenges for the American song-writer. Olsen has recently come out as gay and right before starting the recording session for Big Time her mother died of heart failure, only two months after her father passed away in his sleep. Her music has always been a means to cope with events that are hard to process, let alone control. Yet the songs in Big Time, although rooted in a musical style prone to inward reflection such as country, point to a move beyond the contemplation on loneliness and grief one can find in her earlier recordings. It's as if Olsen is replying to her own call to action by actually taking the necessary steps to set things into motion.
The Big Time film marks both the beginning and the end of this process. It came out the day before the official release of the record of the same name and it expands on the images and the background story that were already present in the singles that anticipated Olsen's new adventure, namely All the Good Times, the title track, and Through the Fires. The plot was born out of dreams of time travelling that Olsen had at the time of her mother's passing. Kimberly Stuckwisch, the director, helped her creating a story arc which crosses reality with events that did not really happen, while keeping the whole thing perfectly relatable for anyone who experienced at least once in their life changes as pivotal as the ones Olsen is dealing with here.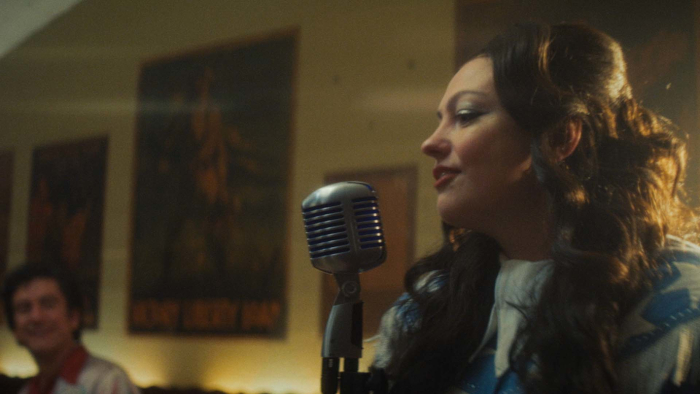 Big Time (Kimberly Stuckwisch and Angel Olsen, 2022)
This is a sympathy that goes from the record and the film to the listener and the viewer, but it works the other way around just as well. Olsen wants us to listen to and to watch attentively at what it meant for her to live through painful and transformational moments, offering images to support sounds and words to reach wherever chords cannot. However, this is true for every honest artist willing to share with heartfelt confidence the dark side of their existence. Here, more than ever before, Olsen is making her experience an example of intimacy shared not for the sake of art but for that of real life. She needs to move on, she wants to fight to get where she can feel safe. The fact that the film is not entirely precise about the details of her story is not just a way to render the dream narrative with cinematic devices, it's also a way to make her intimacy something as universal as possible. We need to move on, we want to fight to get where we can feel safe.
Looking back at Olsen's career and listening closely to her songs one cannot help but notice her research for something through constant shifts to new musical forms and styles. What has she been looking for? The easiest answer to this question is her true identity. But is that really it? She was already alone with the desperate necessity to manage things on her own in Unfucktheworld, the first track of her 2014 album Burn Your Fire for No Witness. "I am the only one now", she said back then. She was also not ready to open up fearing to be hurt again when she sang "With no promise of the future am I not allowed to think kindly of a stranger" in Woman from 2016's My Woman. She then made her anxiety even more explicit in the opening track of All Mirrors with the words "If only we could start again pretending we don't know each other".
Now it seems like she has eventually accepted why the other matters. Big Time is about looking for the other, reaching out for someone who cares, and in doing so, letting go everything that may impede this dangerous quest. The last images of the film show Olsen's erasing her past self and kissing her partner at the dawn of a new day. She is awake, now, the dream finally come to an end. Life begins anew and everything is set right in front of her. A new day for her and a new day for everyone she is sharing it all with. Therefore, as inseparable from the music as the film is, Big Time is also a nod in our direction. When the music ends, when the images are gone, we still need help to move on, because by ourselves we are going to make it unnecessarily difficult. Angel Olsen has removed the differences between music and cinema. In doing so, she is urging us to forget about the differences between ourselves and the others. Only among others we will disclose and thus find our true identity, only then serenity and peace of mind will come.
---